The IQ4 LOCK-PH Pharmaceutical Metal Detector is designed for inspecting tablets and capsules after the tablet and de-duster process with throughput of up to 30,000 tablets / capsules per minute. The system is built with a gas strut stand frame offering exceptional manoeuvrability making it convenient for use with all leading tablet presses and encapsulation machines.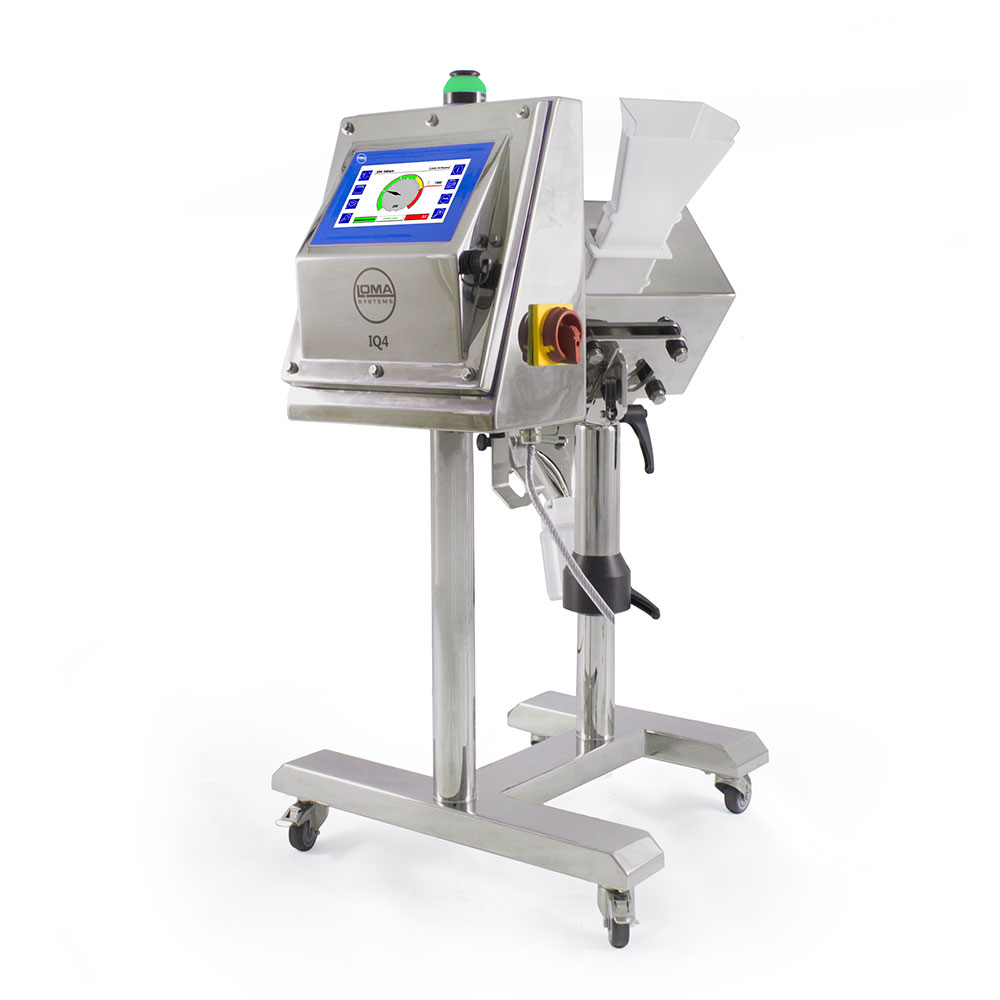 The IQ4 LOCK-PH comes complete with full IQ, OQ AND PQ validation documents and certification and is designed and constructed to IP66 / NEMA 4X standard.
This unit offers best in class calibrated detection levels from 0.22mmFE, 0.28mm NFE and 0.37mm st/st (optimum performance)
7″ Touchscreen with a new easy to use interface
The new large standard 7″ color touchscreen ensure simplicity of operation and setting up of products and changeovers can be achieved effortlessly

Digitally embedded self calibration tool
LOMA's unique software can constantly monitors the frequency and signal to continuously optimize the units detection performance. Additionally, the unit provides a easy to view health check screen so you always ensure your machine is working perfectly
Auto Learn Provides Simple and Fast Set-up
The IQ4 LOCK-PH will automatically set-up and store 200 different pre-sets, calibrating for product effect and loose material as the product passes through the system.
Easy to Clean and Maintain
The IQ4 LOCK-PH is fully GMP compliant and is made with a mirror polished finish with no dust traps
Ideal for these products
Pharmaceutical & Nutraceutical
Additional Features
Sealed for IP66 washdown applications
304 polished Stainless Steel with 316 mirror polished Stainless Steel reject and all parts are FDA, EU approved and certificated.
Manufactured with LOMA's "Designed to Survive" philosophy
Multiple reject options including Wash in Place (WIP)
Specifications
Material of Construction: 304 mirror polished stainless steel with 316 mirror polished stainless steel reject
Single Frequency: 1 MHz – staggered frequency option for multiple machines
Supply Voltages: 110 to 250 V, single phase 50/60Hz, neutral & amp;Earth
Power Consumption: 20 VA
Temperature Range: -10 to +35 °C (14 to 95 °F)
Humidity: 0 to 95% Relative Humidity (Non-condensing)
IP Rating: IP66
PVS Enabled: Yes (Sample Test)
Ethernet Capability: Yes
USB Capability: Yes